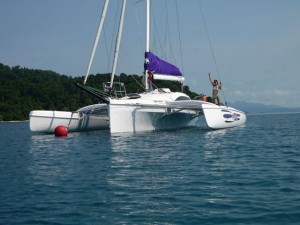 Corsair Marine has been building the world's best trailerable sailing trimarans since 1985 and now has over 1,600 sailing waters throughout the US, Europe, Australia, Asia and South America.
So, why are Corsair Marine's trimarans so popular? Well, you can:
Fold the floats (amas) in minutes.
Lower the mast by yourself (no need to wait for heavy lifting equipment).
Store your Corsair in a monohull's berth or on a trailer on the hard (reducing/eliminating storage and maintenance costs)
Drive the boat (at 60 mph) to where you really want to enjoy your sailing (at up to 20+ knots!).
Enjoy an amazing day, weekend, week or month cruising with the family.
Sail in those longer, more testing, regattas. Compete strongly and complete easily. Pack up the Corsair on the trailer. Drive home. And then enjoy a well earned beer while the slower boats are still finishing!
Featured Models – Trimarans for Sale Florida:
Corsair 37
Corsair Cruze 970
Corsair 880
Corsair 760
Corsair 760R
Corsair Pulse 600